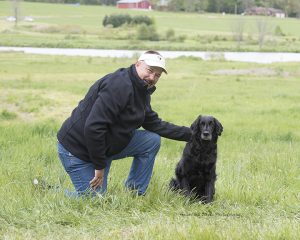 The COVID-19 Pandemic has brought the world to a halt.  Whether it is stay at home orders, cancelled schools, businesses shut down or people working from home, dog events – including our hunt tests and field trials – cancelled, we have all been affected by this virus.  Our April Camp along with all of the spring workshops have cancelled.  Mitch and the dogs are safe and social distancing in South Carolina with Cara Mock and they have all been able to continue training.  Maria is safe and social distancing with Aunt Elaine in Ohio.  We are blessed with our health, great clients and wonderful dogs that continue to make good progress despite it all.  Times are lean, but we are doing OK and expect to come out of this as strong as ever.
We are looking forward to the time when our world opens up again and we can all get together to train, run tests and hold workshops.  In the meantime, to help keep you on track Mitch is making himself available for virtual private lessons (details can be found at Virtual Private Lessons).  You can also find our training manuals available for sale in our Shop.
Mitch is busy working with local clubs to reschedule or add new workshops for this summer and fall.  Keep an eye on our Schedule of Upcoming Seminars and Workshops page for a listing of upcoming events.
We hope this finds you all in good health and we look forward to the time we can see you again.
Stay Healthy,
Mitch and Maria