Gamekeepers Retrievers, Ltd., established by Mitch and Maria White, was born out of their commitment to breed top quality, dual purpose flat-coated retrievers.  It has grown into a professional retriever training service, specializing in training all breeds of retrievers for AKC hunt test programs, breed club field programs and as personal hunting companions.  Gamekeepers commitment to producing the finest dual purpose flat-coated retrievers possible is demonstrated by the performance of their dogs in the show ring and in the field.  Gamekeepers flat-coats have advanced field titles and these same dogs are also top ranked conformation dogs including Westminster Best of Breed winners, Specialty winners and Group winners.
Mitch White – Head Field Trainer/Key Note Speaker
Mitch has been training retrievers for field work since 1988 when he got his first retriever, a Labrador named Hershey, followed by a Golden named Casey before getting into Flat-coats and establishing Gamekeepers Retrievers.  Mitch now trains all retriever breeds professionally and he has also worked with several of the spaniel breeds and with Airedale Terriers.  Over the years, his program has been developed to utilize an approach that works for all of these different breeds.  Because Mitch trains many different breeds, he often has to get "outside of the box" from popular retriever training methods.  One of the key ingredients of the program is fairness to the dog.  Mitch believes in putting the work into teaching a solid foundation so the dog creates a skill set which aids the dog in making decisions out in the field.  Poor decisions are corrected and good decisions are praised.  Because of this approach, his foundation work may take a bit longer than other pros, but the resulting happy, confident worker is well worth the wait.  Mitch also gets a lot of dogs in for "rehab" work.  These are dogs that have been in other programs and have developed issues that have prevented them from going further in training.  Mitch has had tremendous success turning these dogs around so they become confident workers again.
Since becoming a professional trainer, Mitch along with his clients and students earn countless field titles each year, at all levels, including several Master National Qualifiers/Finalists and dogs with Field Trial placements.  Mitch has a loyal following of private lesson students who come from all over the country and Canada to consult with him about training and problem solving.  He also conducts a variety of training seminars and workshops all across the United States and in Canada.  His seminars have received accolades from many licensed judges and from other professional trainers.  Mitch has published two training manuals and is currently finishing the third manual in this series which will be published in the near future.  He has appeared on Outdoor television shows, as well as at major sporting show venues.
Mitch's other credentials include:
AKC Master/Senior/Junior Hunt Test Judge

WC/WCI/WCX approved judge for Flat-coats, Tollers, Goldens,  Labs and Airedales

UKC Finished/Seasoned/Started Hunt Test Judge (currently inactive)

Former Member of the FCRSA Field Committee

Former President of the Flat-coated Retriever Club of Illinois

Former President of the Midwest Waterways Flat-coated Retriever Club

Former Director of the Flat-coated Retriever Society of America
---
Karlee Walker – Field Trainer/Young Dog Development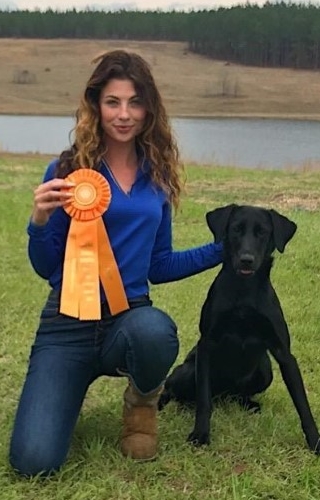 Karlee began her dog training with a rescue Pit Bull named Roulette and a goal of promoting the breed in a positive way by showing their working talent, loyalty and devotion to people.  Prior to coming to work at Gamekeepers, Karlee spent eight years working at Hancock County Animal Shelter in West Virginia where she honed her skills in animal behavior, teaching and compassion.  Karlee is highly successful at turning shelter dogs around so they become loving companions for families.  Under the tutelage of Bobbi Hockenberry at 4Paws, Karlee learned the art of grooming and solid animal husbandry practices. 
Karlee began working at Gamekeepers in July of 2019 and has rapidly developed into a talented retriever trainer.  Her natural ability and keen sense of reading animals has benefited her in quickly advancing in the training of not just retrievers but all dogs.  Along with her current group of retrievers, including the young labrador star Tupelo, Karlee is also training a pit bull named Torryn.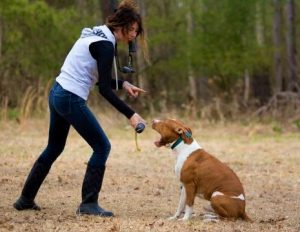 Torryn is currently working alongside the Transition level retrievers in the field.  Torryn and Karlee are impressing many retriever enthusiasts with his skill and excited desire to retrieve on both land and in the water.
In addition to retriever training, Karlee's interests include developing a foundation for shelter rehabilitation, Mondioring, Schutzhund work and thoroughbred horses.  Gamekeepers is very happy to have Karlee as part of our family.
---
Maria White – Business Manager, Breeder and AKC Conformation Judge
Maria has been showing dogs in conformation since 1994, when she sought the guidance and advice of top professional handlers, Carlos Puig and Lisa Bettis who graciously mentored her and taught her the skills she needed to show her own dogs.  As a breeder/owner handler Maria has shown countless dogs to their Championships, has earned multiple group placements including Group 1's and has ranked top specials.  Mitch's travels on the hunt test circuit keep Maria from getting to many conformation shows these days, so she has been focusing on the Gamekeepers breeding program, her work with Flat-coated Retriever Society of America and on taking the occasional judging assignment. Maria is also responsible for taking care of the "business" end of running a business.  If it has to do with accounting, contracts, misc. paperwork, email, website design and management (you get the idea!) she is the go-to girl!
Career highlights include:
AKC Licensed Judge #100829 (Flat-coats)

President of the Flat-coated Retriever Society of America (2014/2015/2016)

Vice President of the Flat-coated Retriever Society of America (2012/2013/2014)

Director of the Flat-coated Retriever Society of America (2010/2011/2012/2016/2017)

Co-Chair of the FCRSA Judge's Education Committee (2018/2019/Current)

2006 Westminster Kennel Club 1st JAM/Flat-coated Retrievers – Dugan

2006 Westminster Kennel Club 1st JAM/Nova Scotia Duck Tolling Retrievers – Schooner

2004 Westminster Kennel Club Best of Breed/Flat-coated Retrievers – Dugan

2003 Westminster Kennel Club Best of Breed/Flat-coated Retrievers – Dugan

2002 Westminster Kennel Club Best of Breed/Flat-coated Retrievers – Hawk

#1 Flat-coated Retriever All-Systems for 2003 – Dugan – campaigned by Maria White

#5 Flat-coated Retriever All- Systems for 2001 – Hawk – campaigned by Maria White

Former Director of the Flat-Coated Retriever Club of Illinois

Served as Hunt Test Secretary for 10 years for the Golden Retriever Club of Illinois

Former Treasurer of the Golden Retriever Club of Illinois